USA Made Hand Tools Since 1960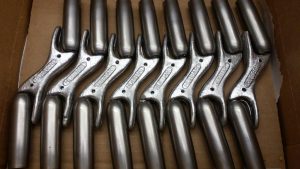 The Hubbard Jointer was developed by a bricklayer, Dick Hubbard, who started in the masonry trade in Sioux Falls, South Dakota in 1924. He was a mason and contractor until he started the Hubbard Jointer Company in 1960. He began commercial production of the tool in its current configuration in 1965. I retired from construction management to buy the company from my father in 1986. We could not be a more grassroots, Made in America family.
The Hubbard Jointer is entirely Made in America of components also Made in America. Every vendor we utilize produces their products here in the USA.
Made in the USA
Made in the U.S.A. means our tools help create jobs for everyone in our supply chain through the end users. It is a concept which gives us a great deal of pride and motivation for excellence.  We know Made in the U.S.A. means Made in America by Americans. People who make our tools and the people who use them are people you may know. People who take pride in their craft. People who care about what they do and seek customer satisfaction.
Overseas Knockoffs
There are cheap, off-shore copies of the Hubbard Jointer Company's entire line of tools. They are poorly contrived and poorly executed copies which do not stand to the test of time. They do not last against the standards created by the original Hubbard Jointer. Please, always insist on the Made in the U.S.A. logo on the products you use.
The original Hubbard Jointer Company's products will always be proudly "Made in the U.S.A."