The Hubbard Barrel Jointer is a high quality, bricklaying tool that will produce a uniformly fine mortar joint finish every time.  The Hubbard Barrel Jointers come with 1/2", 5/8" 3/4" and 7/8" diameter, hardened, tubular steel blades (Barrels) which can be interchanged to accommodate joint size requirements.  No tools are required to exchange the blades or replace a worn blade, simply remove the old blade and screw on the size blade you require.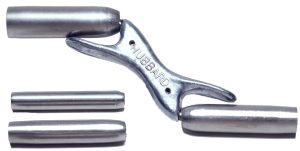 The "Original" Hubbard Barrel Jointer is packaged assembled with one 3/4″ and one 7/8″ diameter blade.  An extra 1/2″ and  5/8″ diameter blade is included in the package.
No Tools Needed: Exchange blades sizes or replace a worn blade by removing  the blade and screwing on a replacement blade on the cast aluminum handle. The hardened tubular steel blades on both the Brick Jointers and Sled Runners produce a uniform and consistently fine finish on the mortar.

The Hubbard Sled Runners are manufactured in 14" and 16" lengths.  The 5/8″, 3/4″ and 7/8″ diameter blades are interchangeable and replaceable on same length Sled Runners. They are fabricated with the same time-proven materials as is the Hubbard Barrel Jointer. The interchangeable, replaceable, hardened, tubular steel blades are mounted between cast aluminum blade holders mounted on a hardwood handle. The tool requires a 7/16″ (12mm) socket wrench for blade adjustment or replacement. The long length of the blades correct any irregularities in the bed joint leaving an overall, uniform finish on a completed work.  Like the Hubbard Jointer the Hubbard Sled Runner blades can be revolved to evenly distribute wear on the blade.

the 14″ X 3/4″ Sled Runner
the 16″ X 3/4″ Sled Runner
The tools are used with both brick and cement block construction. Bricklayers, Masons, architects and Masonry Contractors find the Jointers and Sled Runners leave a  consistently fine finish on the mortar joint. Keeping your tools clean and revolving the blades during use greatly extends blade life. 
These fine masonry hand tools help professional bricklayer's masonry look even better.  Every professional craftsman either want these tools or has them.
All of the Hubbard Jointer Company products are proudly 

Made in the USA.